Theodore Roosevelt in the Badlands: A Young Politician's Quest for Recovery in the American West
Published by Walker Books, this work was a selection of Book of the Month Club and the History Book Club. Promotion for this book included speaking engagements for the author at the National Portrait Gallery (taped by Book TV) and at the annual meeting of the Theodore Roosevelt Association.
From the Library Journal:
Highly recommended as useful to scholars and accessible to general readers, this work focuses on the nature of the Badlands crucible that ultimately recast Roosevelt's sense of confidence and purpose as a participant in American governance.
From High Country News:
Theodore Roosevelt has been the subject of a great many biographies over the years, most notably Edmund Morris' three-part series. But the strength of Di Silvestro's work is the way he succeeds in contextualizing the future president's formative experiences out West.
In the Shadow of Wounded Knee: The Untold Final Story of the Indian Wars
An account of two murder trials linked to the 1890 Wounded Knee shootout between Lakota Indians and the U.S. Army, published by Walker Books.  It was a selection of four book clubs, including Book of the Month and Scientific American.  "If you don't have any other book on Native America on your bookshelf, get this book.  It's full of truth.  It's going to tell you a lot of things that you don't know, a lot of things that have been kept hidden from all of you since 1890, since the massacre at Wounded Knee."  Jay Winter Night Wolf, The Night Wolf Show, WPFW radio, Washington, DC.
Audubon: Natural Priorities
A companion to the Audubon/Turner ten-year anniversary TV program, published by Turner Publishing.
Reclaiming the Last Wild Places: A New Agenda for Biodiversity
An examination of federal wildland management, with emphasis on conservation biology and biodiversity, published by John Wiley & Sons, Inc. Library Journal ranked this title one of the 39 best science/technology books of 1993.  "Everyone in power in Washington should read this book to find out just what our land management policies have been and continue to be—and what they might become."  Niles Eldredge of the American Museum of Natural History, in Issues in Science and Technology.
From Kirkus reviews:
Di Silvestro draws on a number of cutting-edge ecotheories to fashion this strong critique of our nation's pitiful handling of its wild areas. A wealth of current ecological thinking that will prove a gold mine to those behind in their reading, with enough new material to keep the well-versed interested.
From the Washington Post:
The author calls for a new approach that preserves not habitats for individual species but the entire range of American ecosystems – along with, of course, resident species – as well as wilderness corridors to link the truncated ecosystems that have been set aside in many parks and refuges.
Audubon Perspectives: The Rebirth of Nature
A companion book to the Audubon television series, published by John Wiley & Sons, Inc.  A Nature Book Society selection.
The African Elephant: Twilight in Eden
An examination of African history and elephant conservation and biology published by John Wiley & Sons, Inc.  A Nature Book Society main selection.  "Of all the books on the African elephant in the last two centuries, this ranks among the very best.  It is a riveting read, encyclopedic in detail, and unparalleled as a work of reference."  African elephant biologist Iain Douglas-Hamilton.
Living with the Reptiles: A Journey to Times Future and Times Past
A time-travel/environmental novel published by Donald I. Fine, Inc.
Audubon Perspectives: Fight for Survival
A companion book to the Audubon television series, published by John Wiley & Sons, Inc.  A Nature Book Society main selection.  "We are in the midst of a global ecological crisis unlike anything humankind has seen before.  Only the efforts of all the world's people—working together—can save the planet. Audubon Perspectives offers just the sort of new thinking it will take to preserve the environment for future generations."  Then U.S. Senator Albert Gore.
The Endangered Kingdom: The Struggle to Save America's Wildlife
Published by John Wiley & Sons, Inc., with a foreword by Paul R. Ehrlich.  Offered by the Nature Book Society both as a main selection and as a premium for new members.  "Not since Peter Matthiessen's Wildlife in America has there been such a readable, engaging book on the history of American wildlife issues."  BioScience.
Ursula's Gift
A humor novel published by Donald I. Fine, Inc.; it also was published in Germany and Sweden and staged as a musical play in Germany.  "Former zoo curator Di Silvestro turns out a romp worthy of such comic fantasy masters as Frederic Brown and, when he wants to be funny, Stephen King.  Fraught with hilarious plot twists, the story lurches along toward a horribly happy ending.  Terrific entertainment."  Booklist.
A Story of Survival, Restoration, and a Wilder World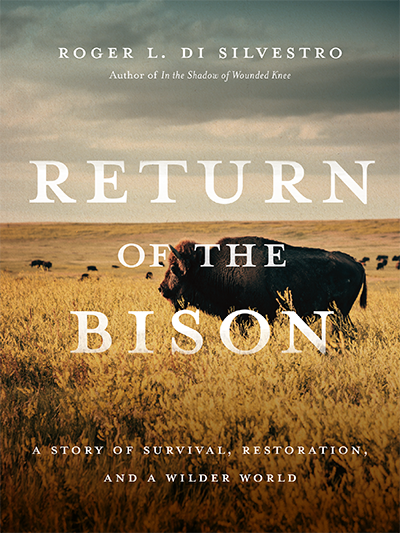 Publication Date: Autumn 2023
Return of the Bison tells how the animal was saved from total extinction, beginning in the 1880s, and how bison survival offers hope for many vanishing species across the globe. . . if we can provide them with the room they need to roam.
Preorder your copy of Return of the Bison from Mountaineers Books, Amazon or Bookshop.org.
"A continent ages quickly once we come to it." -Ernest Hemingway, The Green Hills of Africa